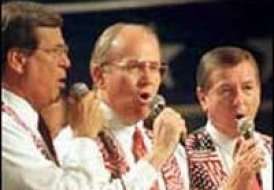 Larry - That's not a microphone!
Looks like Republican Senator Larry Craig is going with the Ted Haggard defense "I'm not gay, I just put penises in my mouth". Funny how these arrests keep happening to conservative Republicans. So much for practicing what you preach. Craig railed against gays, gay rights, gay marriage, and gays in the military but apparently he's okay with gays in his bathroom stall.
Now reports are surfacing that Senator Craig frequently had his nine-hole probed in the men's room at Union Station. Craig insisted today "I am not gay" but if it walks like a duck and talks like a duck, Senator Craig would probably put it up his ass.
Evangelical leader Rev. Ted Haggard preached against the depravity of homosexuality only to be outed by a male prostitute who, on numerous occasions, had received fellatio from the good Reverend.
Don't be surprised if Senator Craig follows the 'Mark Foley Plan' by claiming he was just 'acting out'. Next up for Craig is a trip to Switzerland for a stay at the famed Koch-Schmoker Clinic to be cured of his homosexual tendencies.
Getting caught playing 'hide the salami' with another man is certainly embarrassing. He has embarrassed his country, his state and the US Senate. Craig has a lot of egg on his face, but if you see him in an airport bathroom, it's probably not egg.
-ARTICLE-
AUGUST 28 -
Here's the Minnesota police report memorializing the June 11 arrest of U.S. Senator Larry Craig in an airport bathroom. The Idaho Republican was nabbed in a men's restroom at the Minneapolis-St. Paul International Airport after he apparently sought some same-stall action from a plainclothes cop.

In a District Court complaint, Craig was charged with peeping and disorderly conduct. He pleaded guilty earlier this month to the misdemeanor disorderly conduct count and was fined $1000 and sentenced to ten days in the Hennepin County lockup (though the jail time was stayed as long as the politician keeps clean for a year).

According to the Airport Police Department report, Craig, 62, appeared versed in the subtle signs of seeking a stall assignation, from under-the-divider hand motions to some furtive footsie. For his part, Craig denies engaging in lewd conduct and contends that Karsnia misconstrued his actions.

As for his expeditious plea, Craig now regrets admitting guilt, a realization that directly coincides with Roll Call's unearthing of the details of his bathroom bust. In a press conference today, Craig claimed he "did nothing wrong at the Minneapolis airport," contradicting the plea agreement he signed earlier this month.

Sen. Larry Craig insisted today "I am not gay" and lashed out at the Idaho Statesman for a "witchhunt" that led him to plead guilty to a disorderly conduct charge — a plea he hoped would make the charge go away.

Craig said his state of mind was troubled then because of an Idaho Statesman investigation into rumors circulated by a blogger and published by many other papers in the state. The paper printed nothing until news of Craig's arrest became public Monday.
Labels: senator larry craig us senate gay sex bathroom airport minneapolis st paul bathroom stall i'm not gay but my boyfriend is